2nd Screen Saver
2nd Screen Saver  -  Save your other screens from burn-in
2nd Screen Saver is a screen saver that you control. You run it when you want. It's meant to be used on your 2nd, 3rd, 4th monitor as a screen saver.
It displays images from a folder of your choice. Maximize it (F11) to remove the controls and make it look like a screen saver.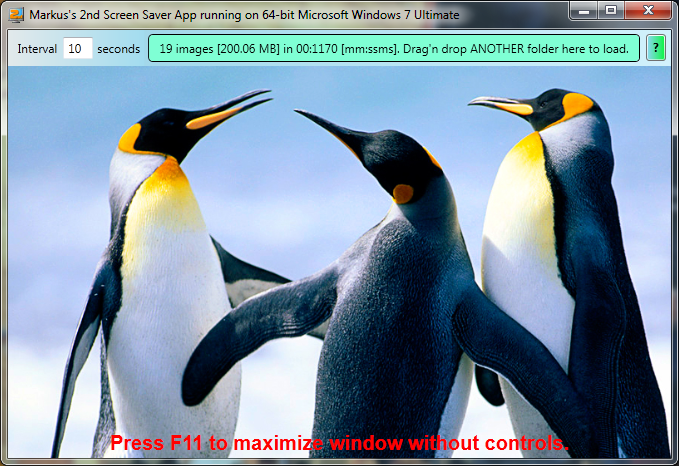 Features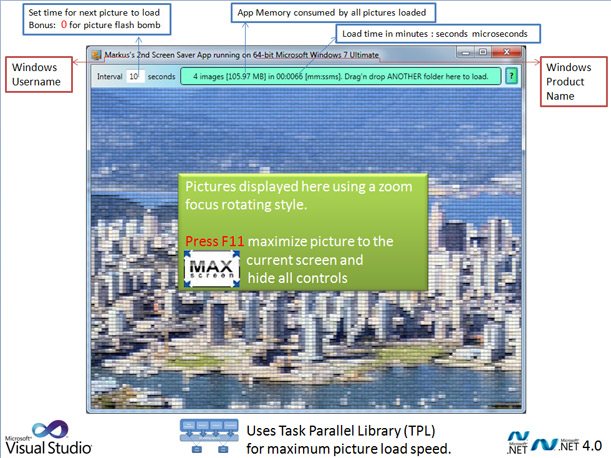 Operational Instructions
1. Press F11 key to maximize and hide all controls. Toggle to show.
2. Drag and drop any folder with pictures into load bar.
3. Load bar shows number of pics, memory and time to load folder.
4. Set wait time interval for changing pictures. Default is 10 seconds.
5. Pictures supported – .png, .jpg, .jpeg, .bmp, .gif
BONUS
Boss key – Press ESC key to quit app instantly.
0 interval – Flash bomb of all your pictures at once.
indicates what version (32 or 64-bit) of Windows you are running
Download
Purchase for only $0.99 cents!!! The only photo bomb software.


You'll receive the zip file in an email!
.7z file unzip from http://www.7-zip.org/  7-Zip is free open source software and a better replacement for .zip files.
Installation
Unzip to Desktop and double-click on ScreenSaver2nd.exe  to run.
ScreenSaver2nd.exe is 32-bit software  has been tested on Windows XP, Vista, Windows 7, Windows 8 with Intel CPUs only – sorry no AMD support. Preferred computers that contain 3rd Generation Intel® Core™ i3, i5, i7 processors.
Note: All images in are loaded into memory, so you are bound by the memory of your machine. So if this app crashes (there is no harm if it does), you loaded to many images from that directory. Images nowadays can be extremely large given the advent of 14 Mega-pixel cameras shoot 14Mb picture. Therefore, 1 Gig of memory will be consumed with roughly 73 pictures.  2 Gigs is approx. 146 pictures.  4 Gigs of memory is about 292 large pictures.
License
2nd Screen Saver License Agreement.
 Technology
Built using Visual Studio 2010 .NET 4.0 WPF Application using Parallel LINQ (PLINQ) and asychronous Task Parallel Library (TPL).



//Libraries required for Spiders